The state of Quintana Roo is a place that is characterized by its nature and the large number of cenotes of incomparable beauty and many of them are just a few minutes from Tulum, which in the same way this beautiful city is home to a famous pre-Columbian Mayan city and their 6 least explored cenotes.
Every day more people come from all over the world to visit this extensive cave system. The water can reach a depth of between 10 and 30 meters. You will also find shallow or shallow cenotes where swimmers and snorkellers can safely have fun in the 6 least explored cenotes.
The crystalline waters will allow you to admire ancient caves, some areas still retain their stone dome
DURING YOUR STAY IN TULUM YOU WILL HAVE MANY THINGS TO DO.
Next I will make a selection of the best cenotes in Tulum. They were chosen for their nature, beauty, and historical importance of this area.
kooleb KAAB
"LADY BEE"
It receives this name since it supplies water to the melipona bee jobones (Melipona Bee Refuge). Currently this place is added to the rescue, conservation and sustainable use of the melipona bee honey.
This cenote is located in a privileged place. Precisely between an archaeological remains and an extensive Mayan stone path. Known in the Mayan language as Sac-Be (white path). The longest Sac-Be that has 100 km and reaches the site of Yaxuná, very close to Chichén Itzá.
Unlike other cenotes that you will find throughout the area, here you can transport yourself to the heyday of the fascinating Mayan culture, since according to archaeologists, merchants came to this place with the purpose of taking a break, eating, bathing and purify yourself before entering the sacred temple of Coba.
Only 10 minutes away, you can get there by bike or walking and spend the whole day in this beautiful place, either to swim in the sacred cenote, taste some 100% organic regional dish or have a delicious drink made with local products.
The prices are very accessible and it is the only cenote where you can eat and enjoy a delicious drink in the same place, since most only offer services related to water activities. Visit Kooleb kaab
MULTUN-HA
"MOUNTAIN OF STONES IN THE WATER"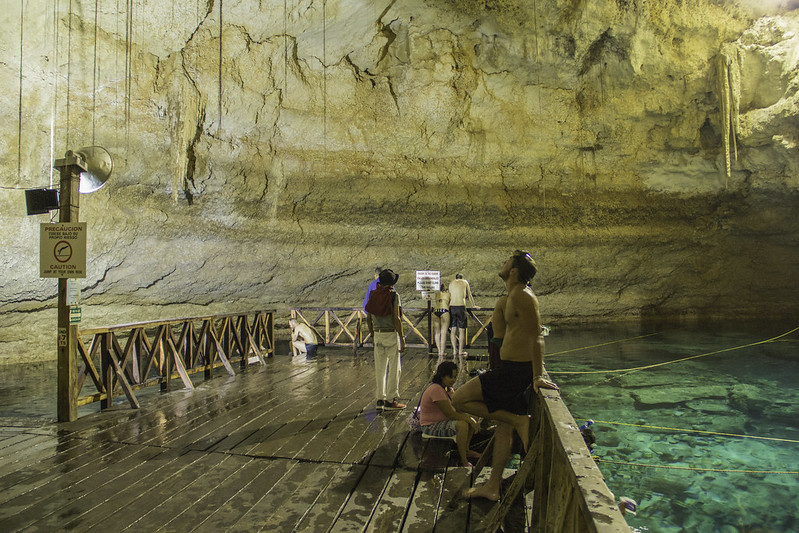 This is one of the 6 least explored cenotes. Its located 15 minutes from the archaeological zone of Coba, it is very easy to get there since leaving since you will find signs and arrows, on the way you will be in contact with nature since it is inside the jungle and you will fall in love with the path that leads to this wonderful cenote.
What Multun Ha Means?
Multum-Ha means in the Mayan language "Hill of stones in the water", this name was given because the water is so clear that you can see under the platform a hill of well-arranged stones that give the impression of being a Mayan ruin This cenote was discovered 15 years ago, but it was only opened to the public about three years ago. and is currently one of the most visited for its natural beauty. . As it is an underground cavern, it has artificial lighting, which allows you to perfectly admire the crystal clear waters and the incredible rock formations. If you decide to explore this majestic cenote right there, they will rent you the snorkeling equipment so that you do not stop enjoying this wonderful place, it has changing rooms and bathrooms. Visit Multun Ha
TANKACH HA
"DEEP WATER"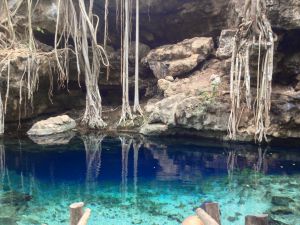 The name is due to the fact that it has a depth that ranges from 4 to 35 meters, being the deepest of the cenotes found in this area. You will descend 83 concrete steps to continue along other stairs but made of wood which has a spiral shape, which at the same time forms a tower until you reach the ground, it is a total of 17 meters, and when you arrive you will find an incredible view, swimming you It will recharge energy and surely you will not want to get out of the water.
When you are descending the stairs you will be able to admire stalactite formations that are covered with endemic flora, making the cavern even more beautiful. You will find two platforms of different heights, one of 10 meters and the other of 5 meters in case you want to dive from there. Visit Tankach Ha
It has two different wooden entrances, where it will allow you to go down very easily and feel the freshness of the water, relax and explore all the corners of this place. You don't have to be a good swimmer since they have life jackets and snorkeling equipment so you can enjoy this beautiful cenote.
CHOO HA
 "DRIPPING WATER"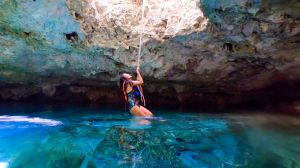 Its name is due to the fact that inside the rock formations are constantly filtering water. Like other cave cenotes you will have to descend a slightly steep wooden staircase. For this reason you have to be careful when going down. Since these places are very humid and the stairs are always wet. As you go down you will be able to observe the roof formations are at your fingertips
Upon reaching the platform of the cavern you will be amazed to see this natural wonder. Because it is surrounded by stalactites and stalagmites. Wherever you turn to see, you can walk very close to them. Visit Choo Ha
You can easily cool off as it is shallow. As well as admire the ancient cave formations. Its ideal for the whole family. Cause they can enjoy this place without any risk and see the fish that gather in the crystal clear water. Like all or most of the cenotes in the area, you can rent snorkeling equipment and all services such as: dressing rooms, bathrooms and everything you need to have a good time
ZACIL-HA
"CLEAR WATER"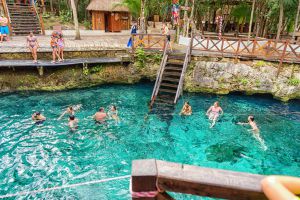 The main side has a depth of 2.5 to 3 meters, making it ideal for swimming and snorkelling.
The pleasant temperature, transparency and beauty of the jade green waters will cause you to be constantly bathing and swimming.
It has a wooden lining around the perimeter to facilitate entry into the water and prevent slipping.
Divers who arrive can enter a cavern where you can see a natural room called "Las Lágrimas". Since it has stalactites in the form of drops.
GRAN CENOTE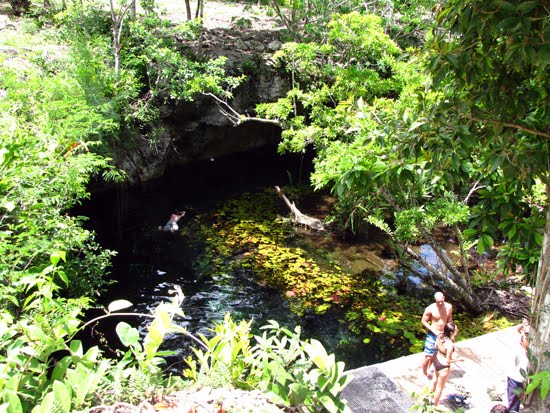 This cenote is different from the ones you may have visited. 80% is outdoors and covered by vegetation. The interesting thing about this cenote is that if you like scuba diving. You can rent equipment and go through its caverns. From one side to the other, is a great experience.
In some cases you might have a little panic but it is really very safe. It is something different like diving in open water.
The water in this 6 least explored cenotes is regularly somewhat cold. But with the climate of the peninsula, swimming will suit you very well. You will be able to enter the water in a part that is uncovered. And see that a few meters further on you can swim through a fairly wide and long grotto that connects with another part in the open air.