Mayan Cacao and Chocolate was very important for the Mayans in their time. In the first place they used it as the currency or money that they could exchange it for things like food or objects they needed to live. And they used it as a key piece to cook their food or make their drinks. The oldest record of cocoa in this area of Tulum and Coba is 2,600 years ago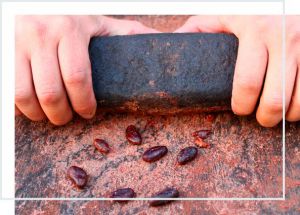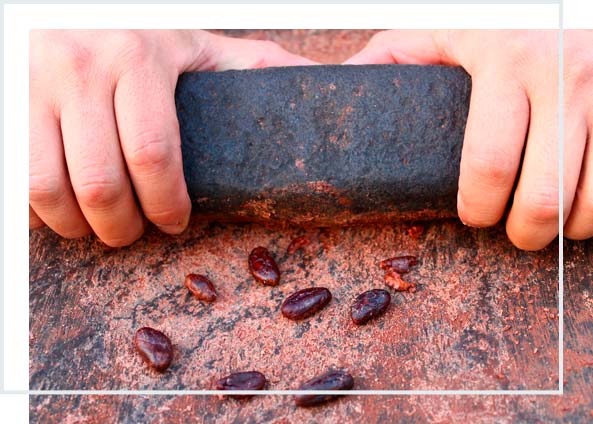 Cacao was so valued by the Mayans who were in Tulum,Coba, Cancun, Mayan Riviera and the Yucatan peninsula as Chichen Itza and Isla Mujeres that they mixed it with fruits so that it tasted bitter or with chewing gum to give it a spicy flavor. even with Axiote to make it look like blood and they took it as a ritual making it be assumed that they took blood from their human sacrifices.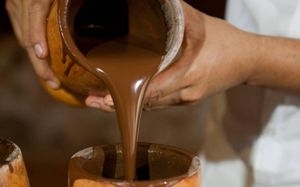 Cacao an Chocolate in the new world.
The Cacao was discovered in Mexico in the spanish conquest and it was exported to Zaragoza. In Zaragoza, there was the first monastery to receive the cacao seeds. So, they convert it in powder!  After in chocolate. And began to manufacture it in Europe in the year 1522. After that, the cacao and chocolate went to France in the year 1606 to 1615.
COCOA IN ITS NATURAL STATE
It is a small tree that grows in the shade of the jungle. It requires heat and humidity to grow healthy. The fruit can give up to 40 cacao seeds. That's why it requires warm climate. The caribbean weather of ​​Cancun. Riviera Maya, Tulum and Coba.

There is a Mayan community that is in Coba called chococacaomaya, just 5 minutes from the archaeological zone of Nohoch Muul, and which is welcomed by the local people, who are Mayans who still live in the area. With its ancestral customs with its rites to enter its sacred place. A Shaman gives it to you speaking in their Mayan language. Is a special ritual for purity and permission. The Xaman also teach you something interesting. He teach you how to convert the Cacao to different flavors of Chocolates.

To get to this beautiful place and get to know this Mayan community in Coba, in addition to having the experience of Cacao and artisan chocolate made in this region of Coba, Tulum, Riviera Maya. The best way is to take a Private or Collective Tour that will include everything you need, from a Certified Guide that will give you a personalized service that has the training to avoid COVID 19 infections, in addition to luxury transportation that will take you to the best places in the area, such as, Cenotes, Ruins or Archaeological remains and places with little access to the public and the Outdoors to keep you happy on your excursion, and have the security and attention you need