The state of Quintana Roo has been favored for its variety of flora, fauna and sacred cenotes in Tulum. Nature shone by creating landscapes with indescribable natural beauty and the best landscapes in Tulum. compared to a place that also houses a pre-Hispanic archaeological zone. Besides in this area you will find the 3 types of cenotes that exist which are: open cenotes, semi open and cave.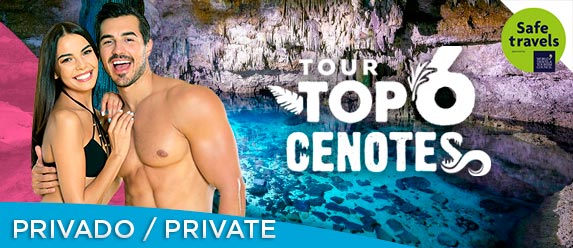 The water in the cenotes in Tulum and Coba are completely clear and crystalline that will allow you to admire the rocky structures that form it. The depth ranges from 10 to 30 meters. The cavern divers' favorites are undoubtedly the deepest while the shallow ones are perfect for family visits.
Currently these places attract visitors from all over the world. Moreover who come to enjoy the cool waters, being perfect for swimming and snorkeling.
Most have a platform to jump into the water. For the same reason in the summer, the bottom of the cenote takes on a green color. However as it is covered with an algae.
Besides just like people, no cenote is the same as the other. In addition many of these cenotes can extend many kilometers deep in the earth, and even be interconnected with other caves and cenotes.
Sacred Cenotes in Tulum and Cobá
Cenotes are a fundamental part of the Mayan culture. Definitely, because they were and are until our times the main source of water supply.  And then for the Mayan culture they also had a connection with the underworld, between the human world and hell, they performed different rituals and ceremonies where they threw precious offerings and it is said that they also sacrificed beautiful women for the gods. This ritual is known as chen ku in which the gods were asked to have a prosperous year.
In the same way, the cenotes are perfect to meditate since you breathe peace and being surrounded by nature you feel an impressive vibe that invites you to do so.
In addition to meditating, you can also practice other activities such as rappelling. In a few words, you cannot miss visiting these incredible places on your visit to Tulum.