Are you looking for the Best Bars in Tulum to add to your travel itinerary?
We have done the research and compiled a list of the Best Bars in Tulum, based on ratings and reviews from Tripadvisor. Whether you're in the mood for a beachfront cocktail, live music, or a trendy rooftop bar, we have got you covered. From the laid-back atmosphere of Casa Jaguar to the stunning views of Meze, each bar has its unique charm and offers a one-of-a-kind experience. So, grab your friends or significant other and get ready to sip on delicious drinks and soak up the vibrant nightlife scene in Tulum. Join us as we take you on a journey through the best bars in Tulum that will leave you craving for more. Fin the Map of Tulum to find every place in your trip.
Batey Mojito & Guarapo Bar
Located in the heart of Tulum, Batey Mojito & Guarapo Bar is a popular spot for those looking for a refreshing drink. With a focus on mojitos made with fresh sugarcane juice, this bar has a lively atmosphere and friendly service. Try the classic mojito or branch out with a flavored option like passion fruit or cucumber. The bar also serves other cocktails, beer, and wine, as well as tasty snacks like empanadas and ceviche. Batey Mojito & Guarapo Bar is a great place to stop by after a day at the beach or before heading out for a night of dancing.

Casa Jaguar
Casa Jaguar is a jungle-inspired bar and restaurant that offers a unique dining and drinking experience. With a menu that focuses on fresh, locally-sourced ingredients, guests can enjoy everything from wood-fired pizzas to ceviche to grilled octopus. The cocktail menu is just as impressive, with options like the Spicy Mezcal Margarita and the Jungle Paloma. Casa Jaguar's atmosphere is a mix of bohemian and chic, with an outdoor seating area that's surrounded by lush greenery and candlelit tables. It's the perfect spot for a romantic date or a night out with friends.

MEze
is a trendy rooftop bar in Tulum with a Mediterranean-inspired menu. The atmosphere is chic and relaxed, with cozy seating areas and stunning views of the jungle. The cocktail menu features unique concoctions made with fresh, local ingredients and a variety of spirits. Their mezcal selection is particularly impressive. The food menu offers small plates and shareable dishes such as falafel, hummus, and grilled octopus. The flavors are bold and delicious, and the presentation is artful.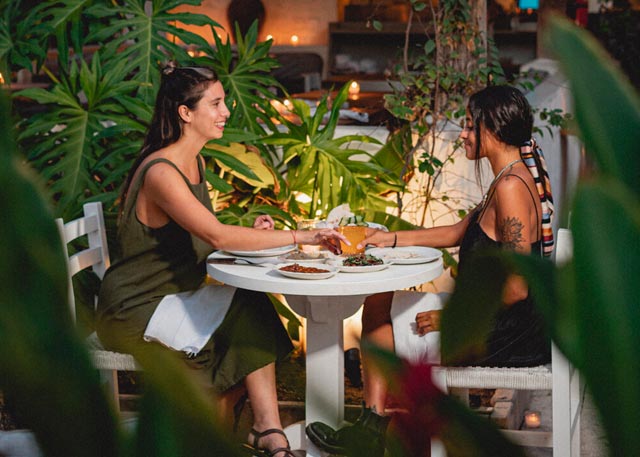 MEZE is a great spot for a romantic evening or a night out with friends. The music is upbeat and lively, creating a fun and festive atmosphere. The staff is friendly and knowledgeable, always willing to make recommendations or accommodate special requests. MEZE is definitely worth a visit if you're looking for a stylish and delicious rooftop experience in one of the Best Bars in Tulum.
Naná Rooftop Bar
Nana Rooftop Bar is a trendy spot located in the heart of Tulum. The bar features a spacious rooftop terrace with breathtaking views of the Caribbean Sea. The atmosphere is lively and fun, making it the perfect place to grab a drink with friends. The bar's menu features a variety of craft cocktails made with fresh ingredients and locally sourced spirits.
One of the most popular drinks at Nana Rooftop Bar is the Mezcal Margarita, made with fresh lime juice and smoky mezcal. The bar also offers a variety of small plates and snacks to accompany your drinks, including ceviche, guacamole, and tacos.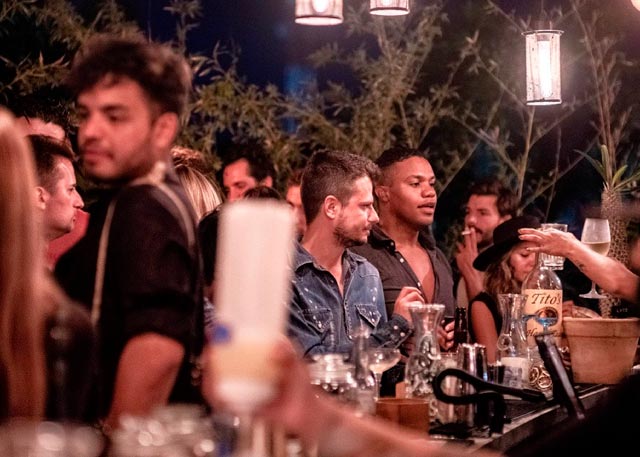 The staff at Nana Rooftop Bar are known for their friendly and welcoming demeanor, making the experience all the more enjoyable. Whether you're looking to relax with a drink or dance the night away, Nana Rooftop Bar is a must-visit spot in Tulum. With its stunning views, delicious drinks, and fun atmosphere, it's no wonder this is one of the Best Bars in Tulum and has become a favorite among locals and tourists alike.
Zazil Kin Bar in Tulum
Therefore is a must-visit spot for those looking for a lively and vibrant atmosphere. Located on the stunning Tulum beachfront, this bar offers guests breathtaking views of the ocean and a unique atmosphere. The bar features a wide range of drinks and cocktails, including local and international favorites.
The menu at Zazil Kin Bar is inspired by the flavors of Mexico. However with a variety of dishes featuring fresh seafood, local produce, and traditional Mexican spices. Guests can enjoy a selection of tacos, ceviche, and other small plates. That's perfect for sharing with friends or enjoying a light meal.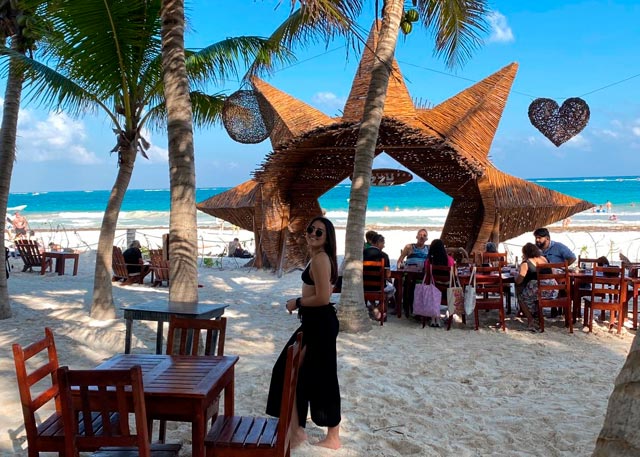 In addition to its delicious food and drinks. Zazil Kin Bar also offers regular live music and events. Making it a popular spot for both locals and tourists alike. The staff is friendly and welcoming. Ensuring that every guest feels at home in the vibrant and energetic atmosphere of the bar. Whether you're looking for a lively night out or a relaxing afternoon by the beach. Zazil Kin Bar has something for everyone.
Best Juice Bar Near Tulum
If what you are looking for are not alcoholic beverages or exotic drinks, but you are looking for something natural, delicious and refreshing. Then you must visit the Chococacao Maya juice bar where you can choose their exotic 100% natural juices with fresh fruit from the region. Visit it, swim in the cenote and eat their cocoa recipes.