Coba Ruins in Mexico
If you want to experience the rich history and culture of the ancient Mayan civilization. Then the Coba Ruins in Mexico are a must-visit. Located just a short drive from popular tourist destinations like Tulum and Valladolid, Coba offers visitors the chance to explore an incredible network of ruins, including the impressive Nohoch Mul Pyramid, one of the largest pyramids in the region.
Take a bike ride
One of the unique features of the Coba Ruins is, therefore, the ability to explore the site by bicycle. In addition, with miles of well-maintained trails, visitors can immerse themselves in the ancient Mayan culture while taking in the beautiful scenery of the jungle surroundings. As a result, this makes for a truly unforgettable experience you won't find at any other Mayan ruins in the Yucatan peninsula.
Coba History
The Coba Ruins are one of Mexico's most popular tourist attractions, drawing in visitors from all over the world. And it's no surprise why – with more than 50,000 people living in the area during the classic period (600 AD to 900 AD), Coba was a bustling hub of activity and commerce. The city was also connected to other large Mayan cities throughout the region, making it an important center of culture and trade.
Despite being consistently inhabited for over a thousand years, the structures at Coba have been remarkably well-preserved. Visitors can marvel at ancient architecture and learn about the daily lives of the Mayan people. And of course. No visit to Coba would be complete without climbing the Nohoch Mul Pyramid. Which offers breathtaking views of the surrounding jungle and countryside.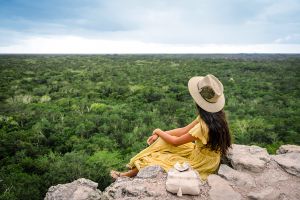 Exploring the Coba Ruins by bike allows visitors to see the ancient Mayan city uniquely. The bike trails wind through the jungle and provides stunning views of the surrounding landscape. Along the way, you'll pass by numerous structures, including the impressive Nohoch Mul pyramid. The pyramid is one of the tallest in the Yucatan peninsula and provides a breathtaking panoramic view. Make sure to bring your camera for some unforgettable photos!