The highest pyramid of Quintana Roo
The Nohoch Mul pyramid has 7 levels with rounded corners, an architectural style similar to that of Chichen Itza and Uxmal.
One of the most important place in Coba is the Nohoch Mul pyramid. Its name means "great mound". It is one of the tallest buildings in the entire Mayan area. This pyramid reaches over 42 meters in height. The entire place and Nohoch MuI was the symbol of the religious power of the rule
r in the Tulum area. As well as of all the ruling lineage of the city. The Nohoch Mul and Coba zone has been little explored but most likely it also served as a mausoleum for the kings.
Conected to the mayan network
The Mayans had a network of very interesting freeways, which have no curves. These freeways only go in a straight line. All this network has a name; the Sacbes.
Coba zone has a very wide network of sacbes (roads). The sacbes are only connected to the most important cities. In this case we find a sacbe that connects the pyramid of Nohoch Muul in Cobá with Chichen Itzá in Yucatán. And that road has more than 100 kilometers.
The only one you can climb
The Mayan pyramid of Nohoch Muul is the only one that can be climbed and can see the horizon of the Mayan jungle that surrounds it from the top. This is one of the most satisfying experiences you will have on your vacation. Remember to take your camera to take the respective selfie of the memory. Book a visit to this impresive pyramid.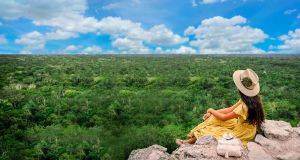 A beatiful zone to explore.
The most impressive thing about this place is the lush vegetation, lakes, and, of course, the stairs. The best time of day to visit it is in the morning because the heat is less intense and in case you can't at that time, take a sunscreen with you. Unfortunately today you can't climb but I recommend renting a bike this will make your adventure more fun.  Do not forget to bring enough water, biodegradable sunscreen and insect repellent as you will surely need it.
Visit Chococacao Maya