There are many places to capture your best photos in Tulum. The most cosmopolitan destination in the Mexican Caribbean. Its visitors have a great aesthetic sense so they find here the best places to capture selfies at the level of their social and digital ambitions. Next, you will know places you will be interested in putting on your list to take your best photos in Tulum.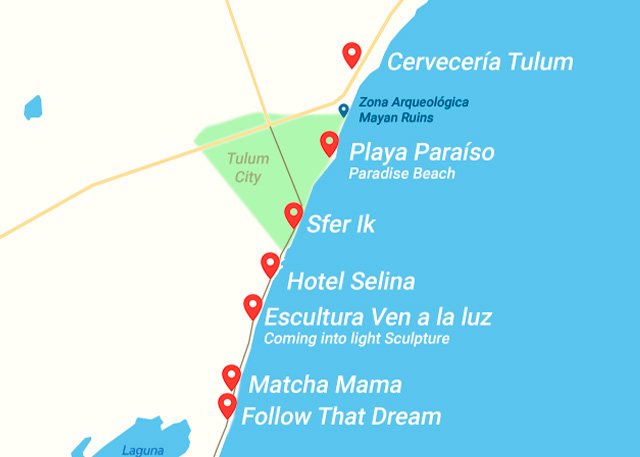 Giant Letters from Cerveceria Tulum.
Before reaching the archaeological zone, on the outskirts of the municipality of Tulum, there is a restaurant bar recognized as Cervecería Tulum. Outside this crowded place are the letters TULUM built with sticks of wood from the region and turquoise blue in the background. This can be your first point to look for good angles and compositions for your social networks.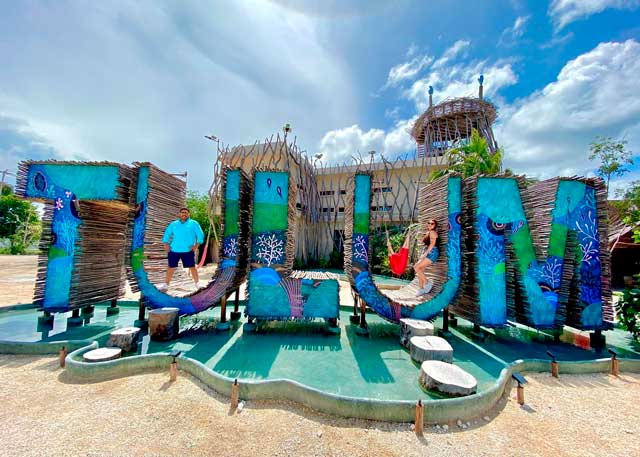 Paradise Beach
This beach is located near the archaeological zone of Tulum, it is a beautiful beach where you will find unique leaning palm trees. In this setting you can capture beautiful sunsets with reddish colors framed by these peculiar palm trees. Sure you will get nice shoots over there.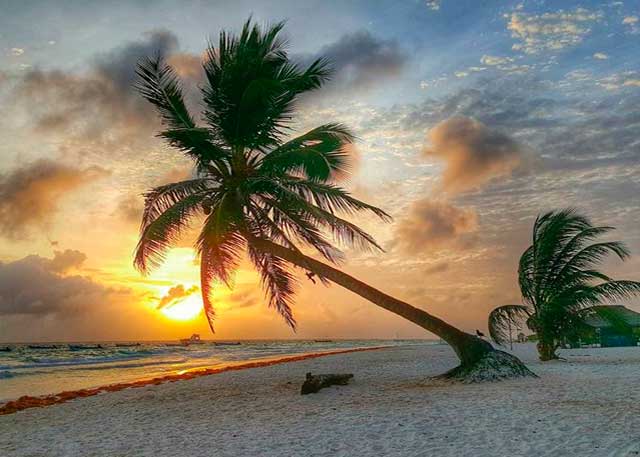 Sfer Ik Gallery Art of Tulum
This is a wonderful place, it belongs to the Azulik Hotel, the most exclusive and expensive in this destination. However, the art gallery is free, so you can enter to capture excellent scenes in a natural environment and atmosphere with rustic touches.

Selina Hotel Tulum
The Selina Hotel has a very exotic entrance made of small wooden boards aligned on a warped surface that forms a tunnel, you will surely be able to take some interesting pictures of your vacation in Tulum.

Sculpture Come in to Light
This is without a doubt the most popular point to take your photos in Tulum and not just any photo, but one of the best photos. Sculpture Come in to light is the most popular to take photos. Upon arrival, you will surely find a line of visitors from all over the world waiting for their turn to have their picture taken in the sculpture of Tulum. We recommend you visit it on a private tour since it is difficult to find parking in that area.

Matcha Mama
At this point in the tour you must already be thirsty, you can take a break from the heat of the Mexican Caribbean at Matcha Mama where you can enjoy a smoothie with natural ingredients and recover your energy. Here you can sit on the swings and take a very picturesque photo. You will feel great and you will look great.

Follow That Dream Sign
The last place on the selfie route in Tulum is a very iconic point of this destination, it is the "Follow That Dream" sign, it is something as simple as a road sign that invites you to follow your dreams while touring this beautiful destination. tourist. It is an excellent opportunity to take a photo as a couple or with your best friends.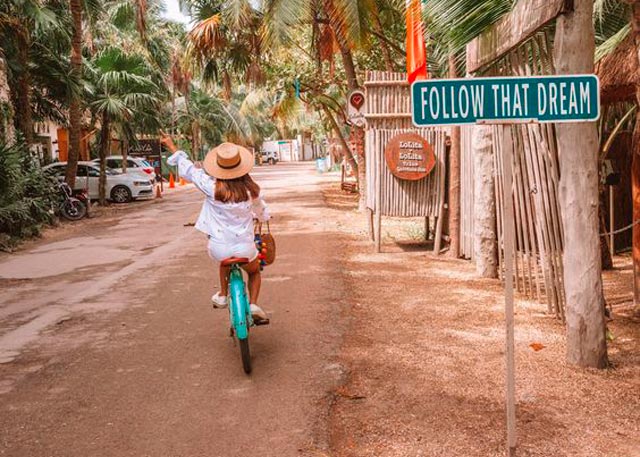 You can take this tour by bicycle or you can rent public transport in the center of Tulum, whatever your choice, keep in mind that you will not be the only one to do this selfie route, there will be tourists from all over the world looking for the opportunity to visit one. of these points and get the best selfie in Tulum. Thus, resources such as parking will be difficult to obtain (besides the fact that there are none). Of course, there will be many options to eat and drink something.